The Community Manager is the professional responsible for building, managing, and administering the online community around an internet brand, creating and maintaining stable and lasting relationships with its clients, its fans, and, in general, any user interested in the brand.
Some people believe that working with social networks is as simple as creating an account on Facebook, Twitter, or Instagram, sharing some content, and responding to the brand's chat.
But, countless courses are promoted on social networks saying that you are already an expert in the field with a period of a couple of hours.
And it's not that simple …
Because of this thinking, many companies are "suspicious" of hiring someone to do this work.
Many even feel the ability to carry out such work without taking the care that it requires.
The community manager has become, in recent times, one of the most critical figures in digital media.
In addition, they are in charge of the success of a brand, which becomes the primary spokesperson for each of the clients they target.
Community management could be defined as the planning and executing tasks that make a company have a presence on the internet, especially on social networks. A professional who has different skills, including communication and strategy design, is managed by a professional who is called a community manager.
Due to the constant changes of the internet, we know that it is not possible, many times, for the owner gets in charge of all the tasks. Therefore, it is crucial to invest in a professional dedicated to accompanying everything and keeping the site updated.
Contrary to what you may think, the job is not so simple. Moreover, it is not for everyone, since some educational training is necessary to perform it correctly.
Brand management on the internet requires different knowledge and skills, techniques, and qualities that must be worked on.
"It is essential that the Community Manager knows the appropriate communication style and tone in each social network."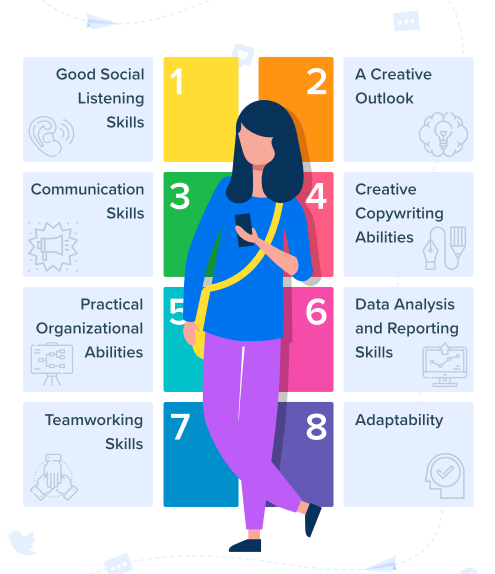 What are the roles and responsibilities of a Community Manager?
The main functions of a Community Manager are:
Design the social media strategy.
It would help if you designed a social media strategy. It must involve goal setting, audience definition, the definition of social media channels to participate, content to share for each channel, among others
Define growth goals and strategies.
It means that it oversees defining the growth goals of each channel and their growth strategies.
Reputation management in social networks.
It consists of managing the reputation of the company or the brands it represents in social networks. It includes tracking importance, creating the reputational crisis protocol, and building crisis responses.
Create content for social networks.
You must have the ability to create value-added content for each audience and each social network.
It is not easy since it generates a reaction in the audience, causing participation in the different social media channels is one of the significant challenges faced in each post.
Achieve relationships of trust with users.
With a close tone and information of added value, the Community Manager must win the hearts of his audience.
If you did not know, the "Community Manager Appreciation Day" takes place every 4th Monday of January. As a way to recognize and celebrate the efforts of community managers around the world using social media and other tools to improve customer experiences. Wikipedia
What is not a Community Manager?
It Is not a Webmaster. The profile of a Webmaster has nothing in common with the Community Manager. That is why it does not consider it appropriate for the Webmaster to do this work.
• It is not a person who is assigned one more activity. In some companies, they inappropriately give the Community Manager's responsibility to a person with multiple occupations. It triggers them only to attend social networks when they "have time" (in many cases, this is rare).
It is not a communicator or journalist from the physical world. But, unfortunately, a physical media communicator is not always a good Community Manager.
In your company, who manages the digital channels of your business? Do you have a person dedicated to this, or do you do it yourself? If you need help knowing which is the best option for your company, we can help you, write to us at [email protected] and receive FREE ADVICE for your business!