If you want to make your website to be visible on the Internet with Google, but you don't know why that is not happening, you should read this
These are some of the reasons why Google can take your website to the third page (if you're lucky) and make you lose complete visibility on the internet:
Slow loading speed: if your website takes more than 3 seconds to load, bad business. It can make users tired of waiting and leave and also that Google does not consider you for the first positions in its search engine.
Duplicate content: it is one of the things that Google likes the least. This type of content can be internal (you have the same paragraph on two pages of your website) or external (you have copied the section as is to another website). Keep in mind that Google rewards original and quality content, so expect you to go the extra mile and make sure your content is unique.
Overoptimize SEO: yes, you have to follow the SEO rules but without going overboard. It is that the page is directed, mainly, to the user. If you do everything to please the search engine without taking the Internet user into account, Google can penalize your website.
Error 404 everywhere: Google has to know what is on your website, so if it comes across many pages with a 404 error, it will understand that you are not giving the user the information they are looking for here.
Overdoing it with keywords: keyword stuffing is a (bad) strategy that consists of filling the web with keywords as if there were no tomorrow and in no uncertain terms. It will incur a specific penalty, don't do it.
Too much advertising: putting advertising on your website or blog is not bad in itself. What you should avoid at all costs is putting so much advertising that it seriously worsens the user experience. Google will know and send you back to the exit box.
Link building too fast: getting other pages to link to your website is very good. If the usual thing is that you get 20 external links a month and suddenly you have 300, Google will think (probably rightly) that you are buying links, and you know what happens to the pages that make Google angry.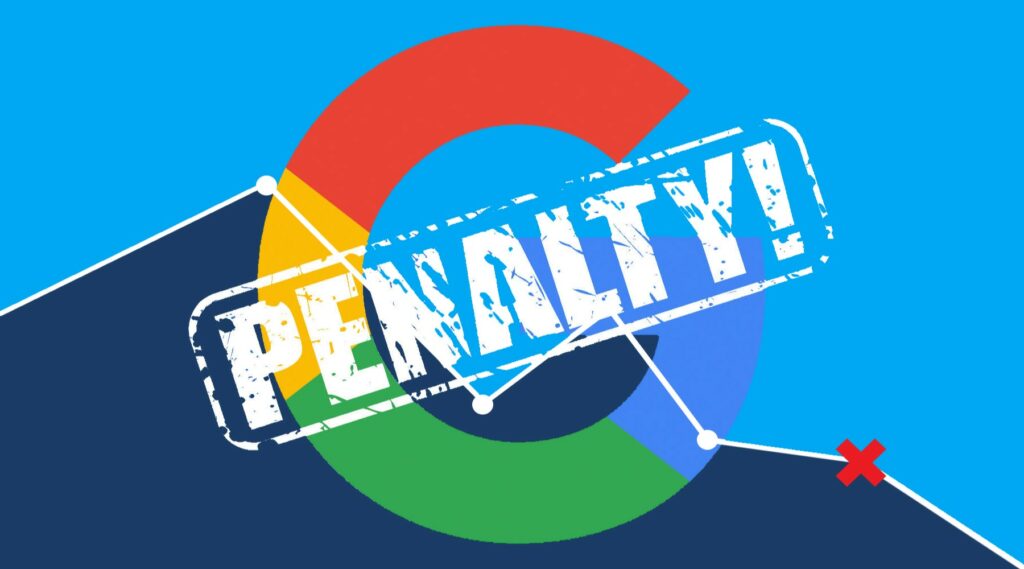 If you notice that your website suddenly has some of these "symptoms," it is possible that Google has penalized it…
• There is low organic traffic.
• Your website loses relevance concerning a series of keywords.
• Some pages disappear entirely from the SERPs.
• The domain has been de-indexed.

If you have checked other possibilities and finally conclude that your website has been penalized, let's see what kind of penalty it is.
What types of penalties are there?
You can suffer two types of penalties from Google: manual or automatic.

Manual Penalty: Manual penalties are the most serious and, therefore, the most difficult to overcome. These types of penalties are carried out directly by a search engine member after receiving an alert signal or a SPAM report from a user. When the penalty has been carried out, you will receive a notification from Search Console informing you about it.

Automatic or algorithmic penalty: on the other hand, there are automated or algorithmic penalties, which occur after one of Google's algorithms has analyzed your website and has detected an irregularity, applying the corresponding punishment.

It is essential that you know how to recognize the type of penalty you have suffered since the actions you have to take to recover will depend on it. You have it easy since if Search Console has left you an email, and there will be no doubt that it is a manual penalty. If, on the other hand, you have not received any notice, everything indicates that it will be an automatic penalty.
So, make your website visible on the Internet with Google and avoid penalties
To get out of the penalty you have suffered, you must first identify whether it has come through Panda or Panguin, which are the two algorithms that focus the most on detecting and penalizing bad practices.
TOOLS THAT COULD HELP YOU DETECT PENALTIES ON GOOGLE AND MAKE YOUR WEBSITE VISIBLE ON THE INTERNET
• Google penalty Checker.
• Search console: access the "manual actions" section of the search console. If you don't see any alert messages, you don't have to worry.
• Duplichecker: to find out if there is plagiarized content. This cause could be grounds for a penalty.
• Barracuda Panguin Tool: for me the best tool to detect Panda and Panguin penalties.
• Google Analytics: look at the graph of monthly sessions; if it decreases drastically, you may have been penalized.
• Website penalty indicator.
HOW TO SEND A RECONSIDERATION TO GOOGLE?
If you suffered a manual penalty and have already fixed all the errors, we recommend submitting a reconsideration to Google. In this way, a member of the Google team will be in charge of analyzing your website and will decide if you have taken the necessary measures to get out of the penalty.
In case the penalty was automatic, you will have to wait for the Google bots to go through your page again to verify that the errors have been fixed and allow you to get out of the penalty.
If you need help with your website, write to us by email at [email protected] or follow us on our social networks, and our specialists can help you by giving you a free diagnosis!